Permanent-Electro Lifting Magnet Systems for Heavy Duty Applications
Magnetic lifting systems using permanent-electro technology are available from Serpent & Dove. The Tecnomagnete 'Tecnolift' range is designed for heavy-duty lifting applications in many industrial environments.
These permanent-electro lifting magnet systems are capable of handling steel plates up to 16 metres in length, blocks and slabs up to 30 tonnes or more, coils, billets, bundles of tube as well as various steel shapes and sizes with ease.
Well-known for their 'neutral crown' technology, the permanent-electro lifting magnets focus all their lifting power at the workface.
Permanent-electro systems are relatively lightweight and highly energy-efficient lifting magnet systems, using power only during activate and de-activate operations. If you need to know if your steel handling problem can be made easier, safer and more efficient with magnets, send an enquiry or pick up the 'phone for an informed discussion.
Our consultants will provide knowledge and sensible answers.
Please phone: +61(2) 9971 7577 for magnet sales or email us.
Related Products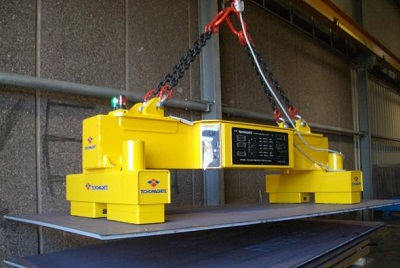 Permanent Electro Heavy Lifting Magnet Systems Australia
Permanent Electro lifting magnets use electric power only at the moment of energising and de-energising. Lifting is effected by permanent magnet elements, there is no need to duty-cycle to limit temperature build-up and no expensive battery back-up system is required as is required with electro lifting magnets. Magnetic lifters, heavy duty magnetic lifting... Read More