About Us
An Australian authority in Magnetic Lifting, Magnetic Separation, Scrap Magnets, Magnetic Work-holding & Clamping, Magnetic Palletisers & Depalletisers and Grate Magnets for food, chemical and plastics industries.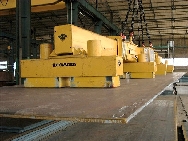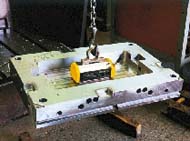 Illustrated are just a few of the lifting magnet options available from Serpent and Dove. For welder's magnetic clamps and workshop, products see our Magnetic Products Guide.
Magnetic lifters, magnetic work-holders and magnetic separators for a broad cross-section of process industries are the everyday stuff of Serpent & Dove - Applied Magnetic's life.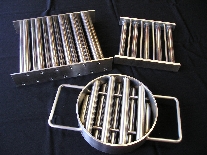 'Finding ways with Magnets' is the by-line that reflects all these years of applying magnetic solutions to industrial problems.
High quality grate magnets like these for food, chemical and plastics industries are just a part of Serpent and Dove's range.
Pictured below are a few of our magnetic clamps and magnetic tools for welding and steel fabrication. Details of each of these and many more appear in the Clamping & Workholding section of this website. For lifting magnets, magnetic lifting systems, tramp iron magnets for conveyors, grate magnets, or other magnets for removing iron contamination from products, we have the answers.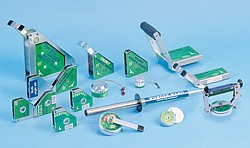 Our team keeps products under review for opportunities to improve either the product or its manufacture. This vigilance, as well as a growing number of Patents, innovations and improvements, has kept Serpent and Dove ahead of competitors and copycats.
Performance, Utility and Value are the criteria by which products are designed or selected for the Australian and Pacific region as well as global markets. It's a philosophy that has served us and our customers well since 1984. The Serpent and Dove logo stands for these criteria.
| | |
| --- | --- |
| | |
| Adrian Heard | Ian Heard |

Trust our know-how For:
Lifting Magnets and all Magnetic Lifting: Permanent and Electro-permanent Magnetic Lifting Systems and products for plate, sheet, billets or any other steel handling.
Magnetic Separation, Magnetic Separators and Tramp Iron Magnets, including Suspended Electro or Permanent Magnets (also known as Overband Magnets and Self-Cleaning Magnets), Grate (or Grid) Magnets, Plate Magnets, Drum Magnets (Magnetic Drums), Magnetic Pulleys and Magnetic Traps. Small electromagnets.
Magnets for Lifting, Pulling, Magnets for Clamping, Magnets for Separating, Cleaning, Sweeping. Magnetic Floor Sweepers and Large Area Magnetic Sweepers.
Magnetic Clamps and Magnetic Clamping, Magnetic Work-holding and positioning Magnets.
Welders Magnetic Clamps and Magnetic Ground (or Earth) Clamps.
Mag-Mate switchable magnetic clamps exclusive distributor for Australia.
Our Motto is 'Finding Ways with Magnets'