Lifting Magnets with 5 Year Warranty in Australia
The world's most used range of permanent magnetic lifters comes with a 5 year warranty. This exclusive warranty applies to all models of the Tecnomagnete MaxX series lifting magnet range, from 125 kgs to 2000 kgs. Two models are specifically designed for relatively thin steel. Requiring no electric power, Permanent Lifting Magnets are activated and de-activated with a fail-safe locking handle.
The internal neodymium (rare earth) magnet element and steel pole plates are nickel-plated for long life and corrosion resistance. Unlike compromise designs, MaxX Lifting Magnets use a monoblock construction and concentrate magnetic power at the magnet face.
When this is not a feature, loads can be dropped should the top of the magnet contact a steel plate or beam during a lift. The Tecnomagnete MaxX series is designed to offer the safest lift even on difficult surfaces. Tecnomagnete is represented in Australia by Serpent and Dove Pty Ltd.
Our consultants will provide knowledge and sensible answers.
Please phone: +61(2) 9971 7577 for magnet sales or email us.
Related Products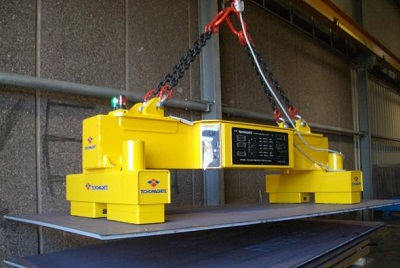 Permanent Electro Heavy Lifting Magnet Systems Australia
Permanent Electro lifting magnets use electric power only at the moment of energising and de-energising. Lifting is effected by permanent magnet elements, there is no need to duty-cycle to limit temperature build-up and no expensive battery back-up system is required as is required with electro lifting magnets. Magnetic lifters, heavy duty magnetic lifting... Read More