A lifting magnet to suit every application
Whether it's a steel block, bar, plate, bundle, billets, slabs, solid or hollow, there's a lifting magnet in the Tecnomagnete range to suit every application.
Represented in Australia and New Zealand by Serpent and Dove, Tecnomagnete has perfected 'neutral crown' technology that puts all the lifting power at the face of every lifting magnet they produce. This technology applies to permanent and permanent-electro lifting magnets alike.
Lifting magnet systems that do not employ this technology suffer from 'flux leakage', which means that not all of the available magnetic lifting power is presented at the lifting face, resulting in inefficiency and even lack of safety. Permanent magnetic lifters range in lifting capacity from 125 kgs to 2000 kgs, require no electric power and are operated by means of an on/off lever.
They offer safe magnetic lifting in applications such as smaller plate, block, bar and pipe and vertical lift attachments are available for duties where plate needs to be lifted to a vertical orientation. For large plate lifting Tecnomagnete offers a huge selection of options including the Tilting Beam Magnetic Lifting system (see Video link above) which allows the large plate to be lifted from a vertical orientation to horizontal or vice versa.
The Tilting Beam Lifting Magnet system is ideally suited for the extraction of the vertically stacked plate. With advances in Permanent-Electro magnet technology, it can be said that lifting magnets have come of age because this lifting magnet technology reduces power consumption by a huge 90- 95% compared to older styles of lifting magnets. Whatever the steel lifting requirement it's likely there's an efficient and energy-saving answer in the Tecnomagnete range from Serpent and Dove.
Our consultants will provide knowledge and sensible answers.
Please phone: +61(2) 9971 7577 for magnet sales or email us.
Related Products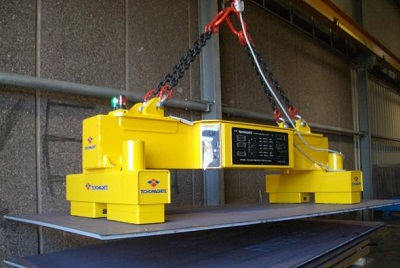 Permanent Electro Heavy Lifting Magnet Systems Australia
Permanent Electro lifting magnets use electric power only at the moment of energising and de-energising. Lifting is effected by permanent magnet elements, there is no need to duty-cycle to limit temperature build-up and no expensive battery back-up system is required as is required with electro lifting magnets. Magnetic lifters, heavy duty magnetic lifting, Magnets for loading Cutting Tables... Read More