Permanent-electro lifting magnets from Tecnomagnete in Australia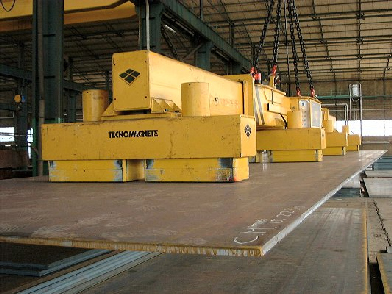 In conjunction with Italian manufacturer Tecnomagnete, Serpent & Dove exclusively distributes lifting magnets in Australia to lift large plate, coil steel, billets and blocks. View the video.
Permanent-electro lifting magnets employ clever technology known as the Dautanac system in which permanent magnet elements are energised to do the lifting and then de-energised to release the load only when the lift is complete and at rest. This means that electrical energy is required only during the brief energise and de-energise actions.
In contrast, conventional electro lifting magnets consume large amounts of energy during the entire lifting cycle, which can frequently be 15 minutes or more, and often repeated for protracted periods. Such magnets must be duty-cycled so that over-heating does not pose a problem.
Permanent-electro lifting magnets, however, run cool and do not need to be de-rated or duty-cycle rated. In addition, as the lifting is effected by permanent magnets, no cumbersome battery back-up system is required.
This modular lifting magnet technology can be adapted for use in a range of applications, including:
systems using fixed or telescopic beams
as single modules for coil or block lifting; and
on tilting beams for extracting steel plate from vertical storage racks.
Customers such as DT Hi-Load, which produces truck bodies and large components for mining industries, have experienced significant improvements inefficiencies with the use of permanent-electro lifting magnets from Serpent & Dove.
Our consultants will provide knowledge and sensible answers.
Please phone: +61(2) 9971 7577 for magnet sales or email us.
Related Products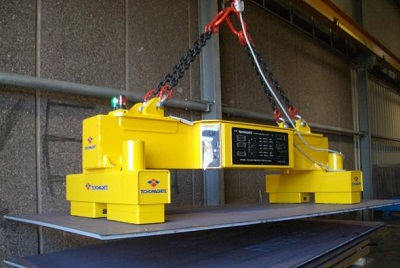 Permanent Electro Heavy Lifting Magnet Systems Australia
Permanent Electro lifting magnets use electric power only at the moment of energising and de-energising. Lifting is effected by permanent magnet elements, there is no need to duty-cycle to limit temperature build-up and no expensive battery back-up system is required as is required with electro lifting magnets. Magnetic lifters, heavy duty magnetic lifting... Read More