Magnets & Magnetic Clamps for Special Purposes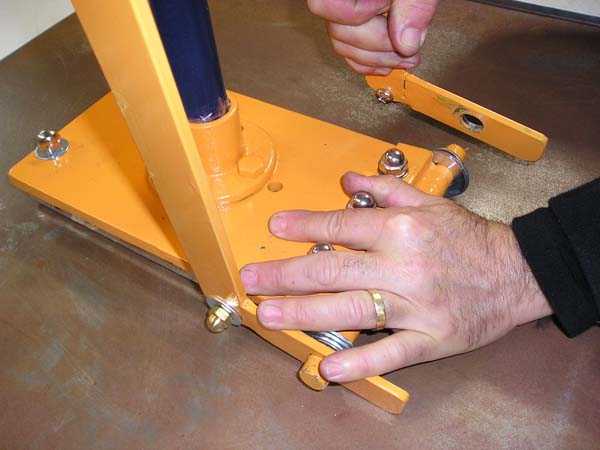 Safety Rail & Safety-Fence Magnetic Clamps
Serpent & Dove - Applied Magnetics has patented a magnetic clamping system suitable for a number of safety uses - including the anchoring of temporary safety fencing. Such temporary fencing is used to protect personnel working at height or above floor openings in mineral process plants or similar situations where steel flooring is used. Development is ongoing and individual applications are being assessed on a case by case basis.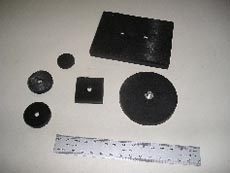 Magro-Pad Surface Clamping Magnets
These magnetic clamping blocks provide exceptional magnetic strength with surface protection and added slip resistance. Magro-Pads are rubber-encapsulated magnetic clamping devices. Totally rubber encased, these magnetic clamps feature a series of North/South neodymium (rare earth) magnet elements on a steel back bar to produce exceptional clamping strength at the working face. Rubber encasing protects clamped surfaces from damage and provides additional friction resistance to forces in a shear or slide direction. A 100 x 75 x 10 mm thick Magro-Pad provides better than 46 Kgs on 3 mm steel. Magro-Pad magnetic clamping blocks can be supplied in standard shapes and sizes with threaded holes or mounting studs or maybe custom made and coloured if required. Conventional Pot Magnets can easily damage painted surfaces but Magro-Pads will not. Typical applications include antenna bases, clamping for signage, instruments, safety flags and lights - or they may be used as tool-holders.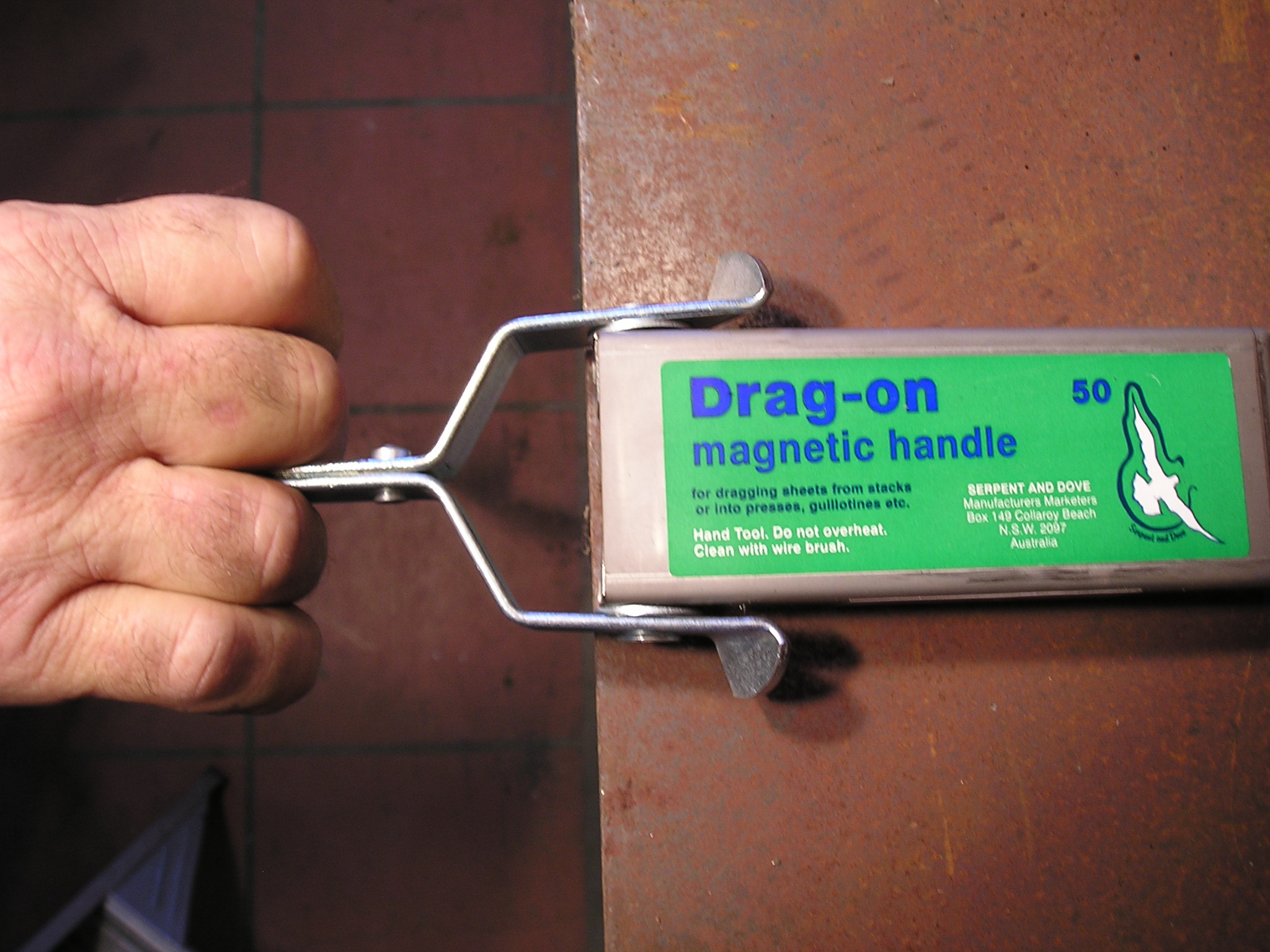 Sheet pullers - Drag-On Magnetic Handles
Designed to make steel sheet handling easy, these 'Magnetic Handles' enable you to literally put a handle on a steel sheet.
Cleverly designed intense multi-pole magnetic element is exceptionally strong and will only take one sheet at a time.
Drag-On 50 pulls 50 Kgs,
Drag-On 100 pulls 100 Kgs
Super Drag-On 20RE, an incredible 200 Kgs!
Download brochure (PDF file = 1 mb)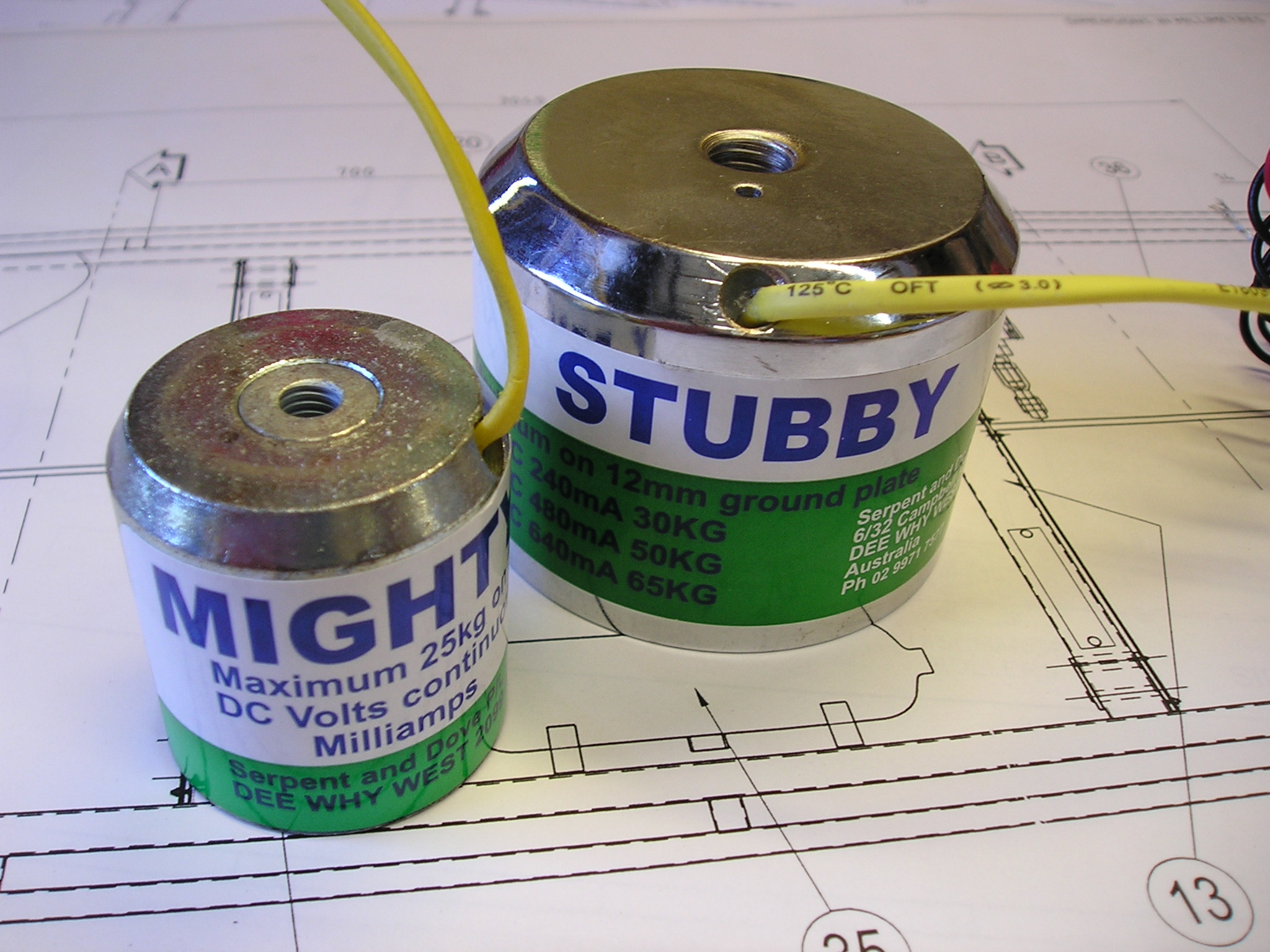 Small electromagnets: Mighty-Micro & Stubby
35 and 60mm diameter a
clamping 25 Kgs (250 Newtons) and > 80 Kgs (800 Newtons)
12 or 24v.DC.
These products find application in robotics, air-conditioning and refrigeration, as fire door magnets, cattle gate holders and many more uses.
Downloads
Mighty-Micro Data Sheet (PDF file = 431 kb)
Mighty-Micro Test Sheet (PDF file = 43 kb)
Stubby Data Sheet (PDF file = 46 kb)
Stubby Test Sheet (PDF file = 32 kb)
Stubby Dimensions (PDF file = 17 kb)