Automatic self-cleaning Grate Magnets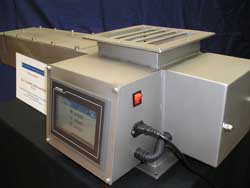 Grate magnets - an intrinsic part of all food, grain and powder handling industries for removal of unwanted iron are now available in pneumatically-actuated, self-cleaning style. With surface strength of up to 1 Tesla (10,000 Gauss) self-cleaning grate magnets feature touch-screen control and adjustable cleaning cycle time. Double rows with each row cleaned independently means no interruption to process flow and no need for manual attendance. Complementing the Serpent & Dove - Applied Magnetics Econo-Grate range, several standard sizes are available or custom sizes may be designed. Demo model self-cleaning grate magnet can be seen operating at our Sydney facility.
Our consultants will provide knowledge and sensible answers.
Please phone: +61(2) 9971 7577 for magnet sales or email us.
Related Products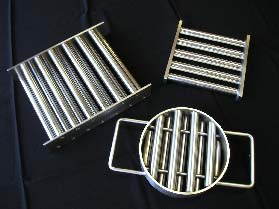 Plate Magnets, Magnetic Drums & Pulleys, Magnetic Traps for liquid lines
Grate Magnets for food industry, grate magnets for plastic industry, grate magnets recover iron from dry free-flowing products such as grain, flour, sugar, powders, pigments, chemicals as well as plastic pellets and many other products, Easy clean grate magnets and self-cleaning grate magnets.... Read More