Tramp Iron Magnetic Separators for Small Conveyors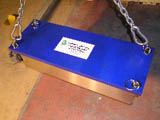 Tramp Iron Magnets for small belt conveyors that won't break the bank available from Serpent and Dove.
Lightweight, low-cost tramp metal permanent magnets for conveyors with small burdens. In the past, limited design options have meant that tramp magnets larger, heavier and more costly than required were frequently applied over relatively small, low capacity conveyors.
Now, using rare earth magnet technology and smaller, lighter components, Serpent & Dove now produces lightweight tramp metal magnets specifically for smaller conveyors that carry low capacities with burden depths up to about 100mm. Known as the Premier Plate Magnet, the design allows tramp iron magnets up to 1500 mm wide, with various pole configurations as suited to the application. In addition, Serpent & Dove also supplies both electro and permanent tramp iron magnets for conveyors in self-cleaning or manually cleaned options for large burden conveyors of all speeds, capacities and product types.
Our consultants will provide knowledge and sensible answers.
Please phone: +61(2) 9971 7577 for magnet sales or email us.
Related Products