New surface clamping magnets released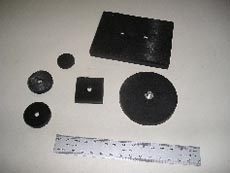 These magnetic clamping blocks provide exceptional magnetic strength with surface protection and added slip resistance.
In keeping with its motto, 'Finding ways with Magnets', Serpent and Dove is releasing a new and revolutionary range of rubber-encapsulated magnetic clamping devices called Magro-Pads in Australia.
Although totally rubber encased, the new magnets are unlike magnetic rubber in that they have a series of North/South neodymium (rare earth) magnet elements on a steel back bar so that they produce exceptional clamping strength at the working face.
The total rubber encasing protects clamped surfaces from damage and also provides additional friction resistance to forces in a shear or slide direction. A 100 x 75 x 11 mm thick Magro-Pad, 10 mm thick provides 16 Kgs of grip on � mm steel and better than 46 Kgs on 3 mm steel.
Magro-Pad can be supplied in a number of standard shapes and sizes with threaded holes or mounting studs or can be custom made and coloured if required. Magro-Pads provide an attractive alternative to conventional Pot Magnets - especially where surface protection is important.
Typical applications include antenna bases, clamping for signage, instruments, safety flags and lighting
Our consultants will provide knowledge and sensible answers.
Please phone: +61(2) 9971 7577 for magnet sales or email us.
Related Products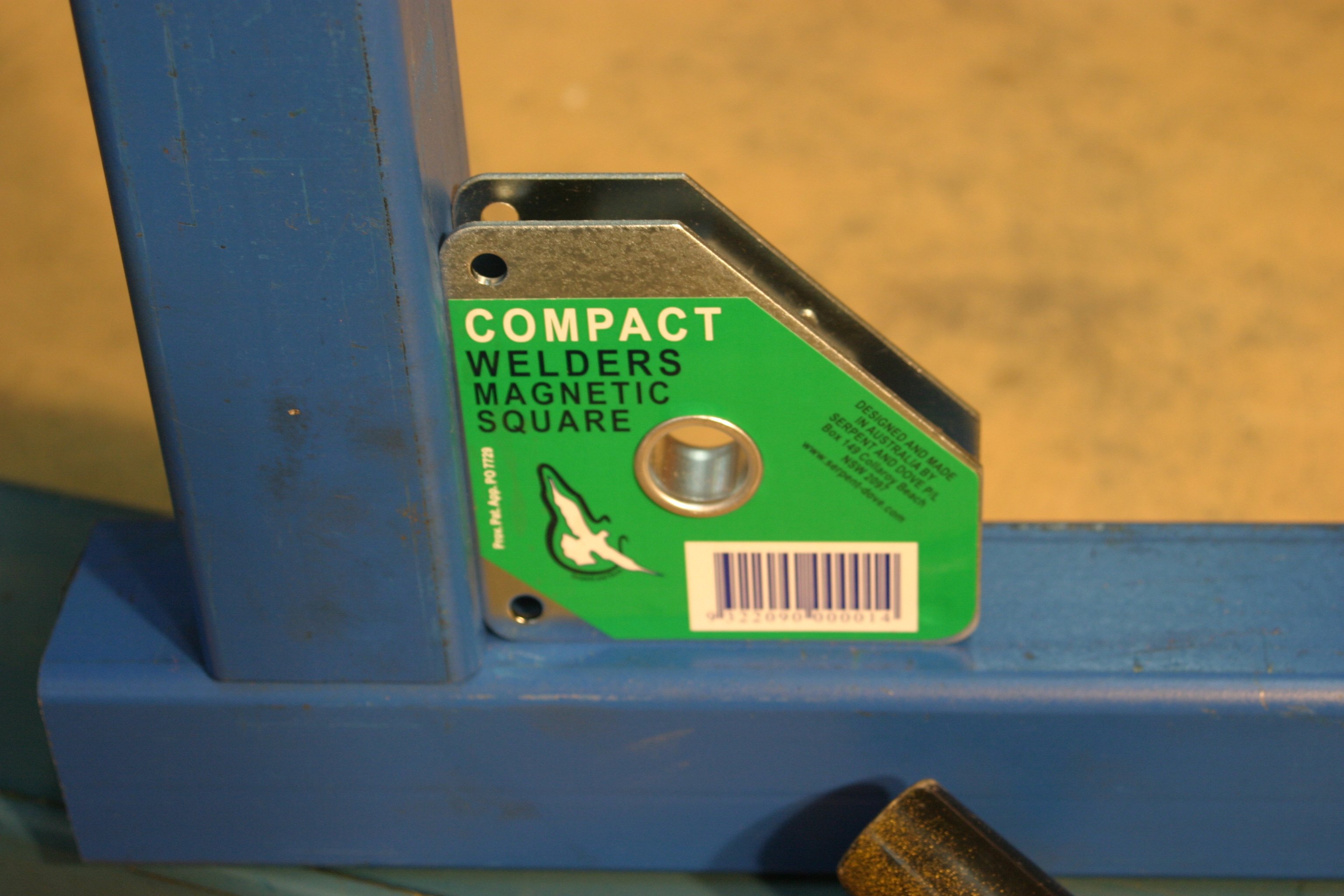 Magnetic Workholding Clamps for Welders, Australia Magswitch magnetic clamps
Serpent & Dove-Applied Magnetics Pty Ltd. Mag-Mate Australia welders clamps and squares, magnetic handles to drag steel sheet, Magswitch replacement Mag-Mate on/off switchable magnets exclusive stockist, Magnetic Clamps & work holders for Welding, Magswitch equivalent Mag-Mate switchable magnets and automation magnets, pick and place magnetic holders... Read More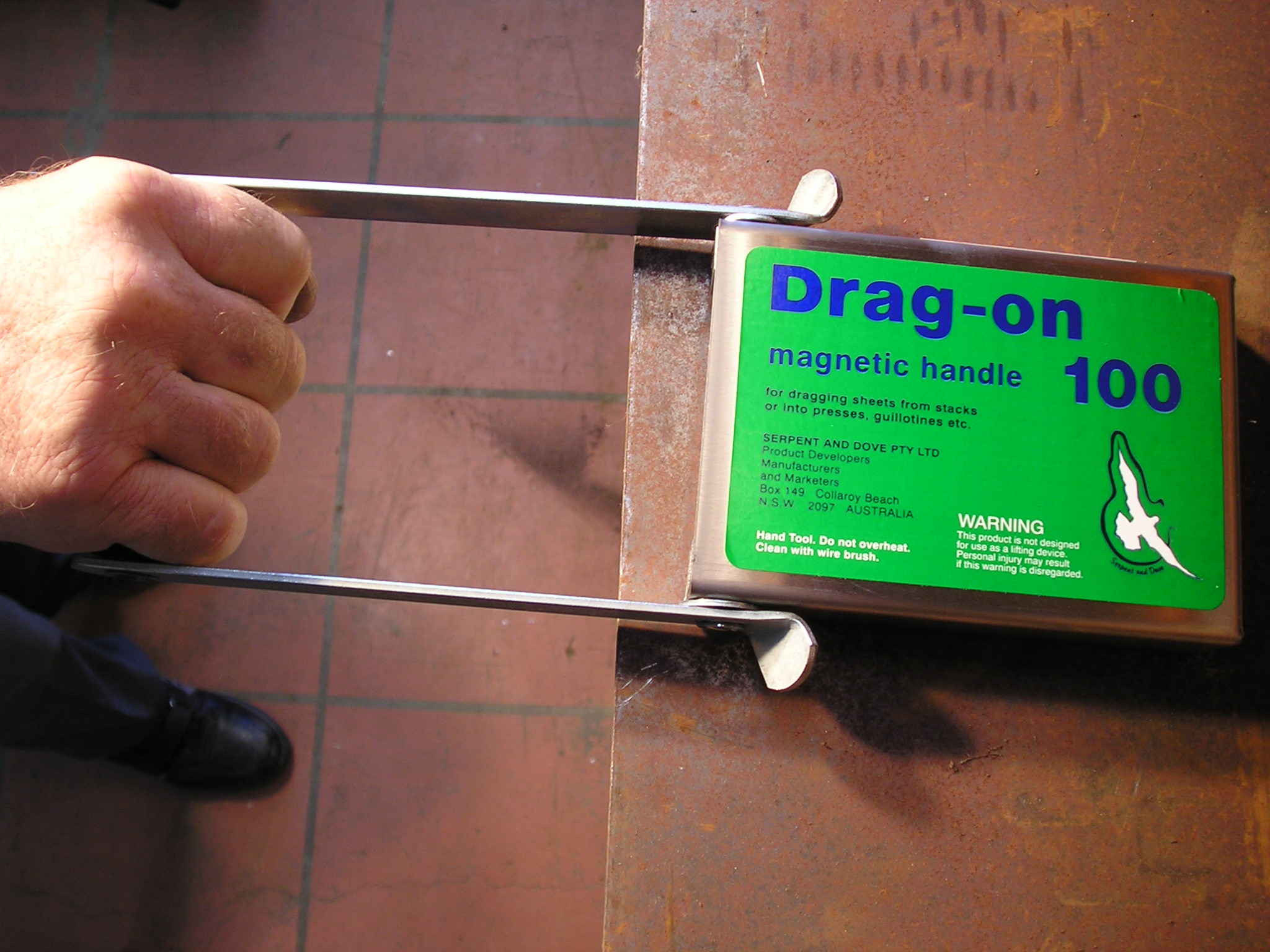 Drag-On Magnetic Handles
Using intense, multi-pole, shallow-field magnet technology these light-weight magnetic handles quickly grip steel sheet to provide a safe means for dragging and keeping sheet under control.... Read More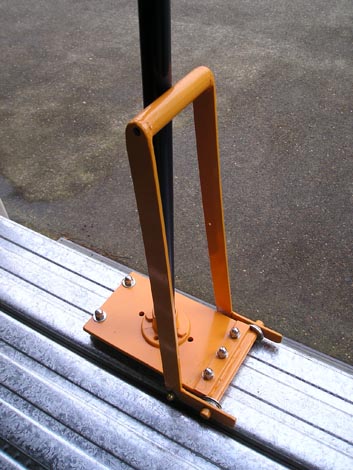 Special Purpose Magnetic Clamps
Serpent-Dove Applied Magnetics Pty Ltd. Safety Rail & Safety-Fence Magnetic Clamps, Magro-Pad Surface Clamping Magnets, Sheet pullers - Drag-On Magnetic Handles.... Read More